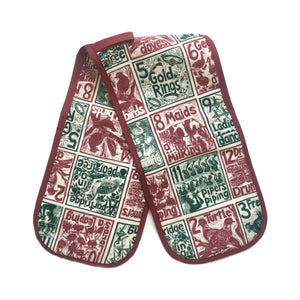 You could not help but feel Christmassy as you get the turkey out of the oven with your hands beautifully protected and snug in this organic cotton double oven glove.
The family is waiting at the table, the trimmings are all prepared, the crackers ready to be pulled and the paper hats about to be donned. I can almost taste the delicious wafts coming from the kitchen as you bring the turkey to the table to the eagerly awaiting assembly, admiring your magnificent cooking and stylish seasonal gloves.

The print on the gloves depicts my humorous take on the traditional Christmas song where I challenged myself to fit each of the twelve presents given by 'my true love' into a square lino cut print. This became increasingly challenging as the presents mounted up. One partridge was simple sitting in it's pear tree, two turtle doves as well, in fact all the way up to eight maids a milking which was the biggest challenge.
How to fit all eight maids and their cows in? They must have their cows or they would not be milking - as you can see I came up with a genius solution!
After finishing all 12 prints I made a Christmas tea towel which has been a consistent seasonal best seller for the last few years. Along with the set of greetings cards this year I have added an apron, a double oven glove and wrapping paper to the collection. 
At 85 x 20 cm, this generous sized glove is printed in the UK on organic cotton and skillfully hand finished in a rich deep red bias binding with a handy hanging loop
The thick heat-proof padding extends above the wrist for extra comfort and protection, beautiful yet practical (William Morris would approve), this oven glove is hard wearing and machine washable at 40 degrees

A fabulous gift for lovers of a traditional Christmas and a bit of a festive singsong, the perfect stocking filler!
The Origins of the Design; 

'The Twelve Days of Christmas' is a traditional Christmas song first published in England in 1780 but thought to be of French origin. It is a cumulative song where each verse builds on top of the previous. As the verses accumulate, so do the gifts; by the end of the twelve days the true love would have received 12 partridges, 12 pear trees, 22 doves, 30 French hens, 36 colly birds, 40 gold rings, 42 geese, 42 swans, 40 maids, 40 cows, 36 ladies, 30 lords, 22 pipers and 12 drummers! I have used the original 'colly' birds which is a traditional name for black birds rather than the often-sung modern version of 'calling' birds.
This oven glove is also available as part of a gift set